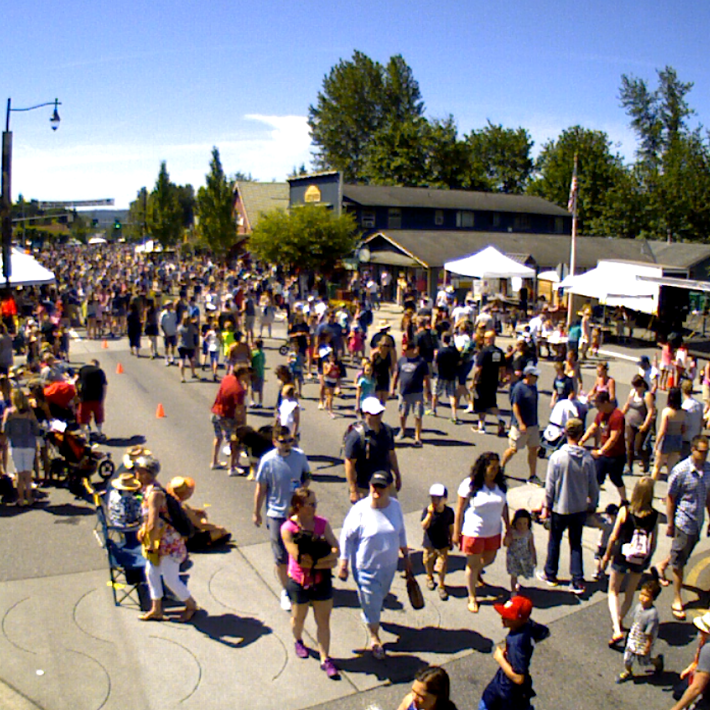 Booth & Food Vendors
All Day
Main Street, Duvall Police Parking Lot, McCormick Park
80+ Vendors will line Main Street of Duvall, Duvall Police Parking Lot and McCormick Park. Look for art demos, local organization booths, food trucks and more.
A few spots left. Vendor Application here >>
Parade presented by Rotary Club of Duvall
Starts at 10:30am
Main Street
The annual Duvall Days Parade kicks off the Festival and is the highlight for many residents. The Kiddie Parade starts at 10:30 and is immediately followed by the Grand Parade, which runs along Main Street; beginning at Valley Street and ending at Stewart. The parade highlights organizations, individuals, animals, and all that we love about Duvall.  Sponsored by Rotary Club of Duvall.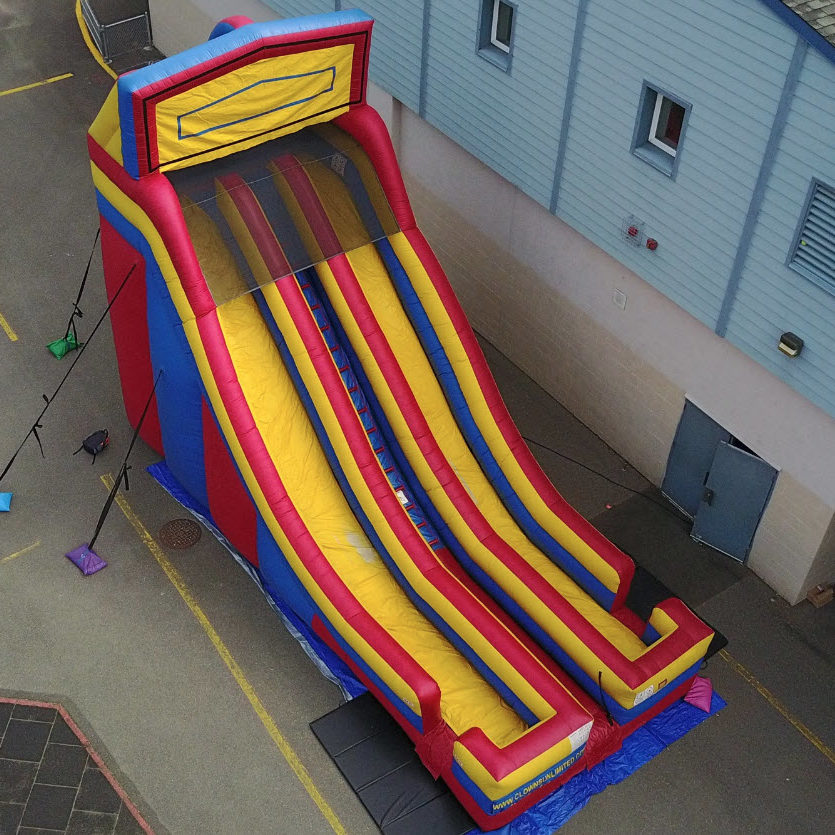 24' slide
9am - 4pm
Main Street near Duvall Tavern


This large, inflatable dual-lane slide is a thrill for all ages. Climb to the top and race your friends to the bottom!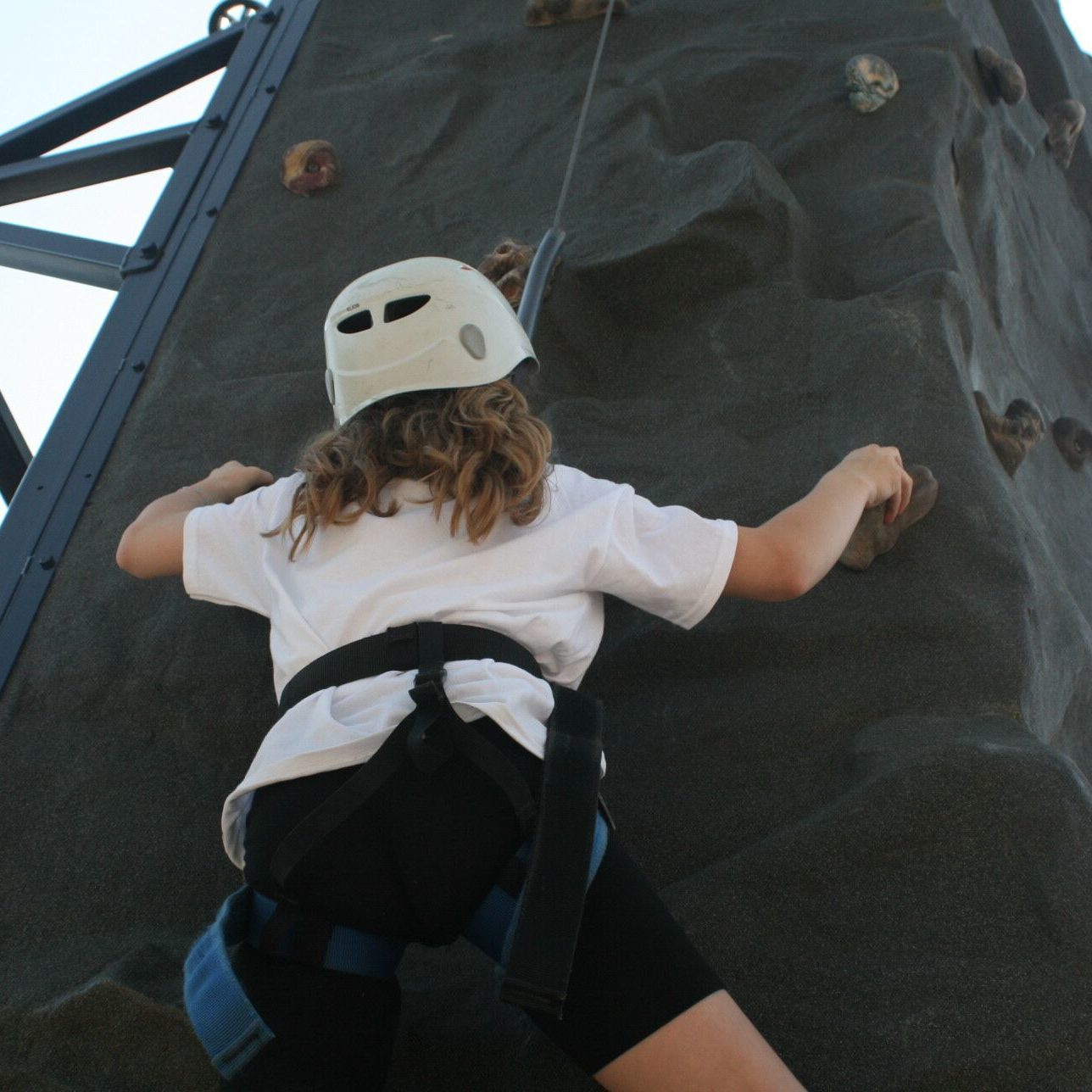 24' Rock Climbing Wall
9am - 8pm
Police Depot Parking Lot
Come on down to Depot Park and try your rock climbing skills at Duvall Days! No need to be an expert, this 25ft high wall features 5 distinct climbing areas that vary in difficulty, and is fully equipped with safety harnesses. Challenge your self, challenge your friends!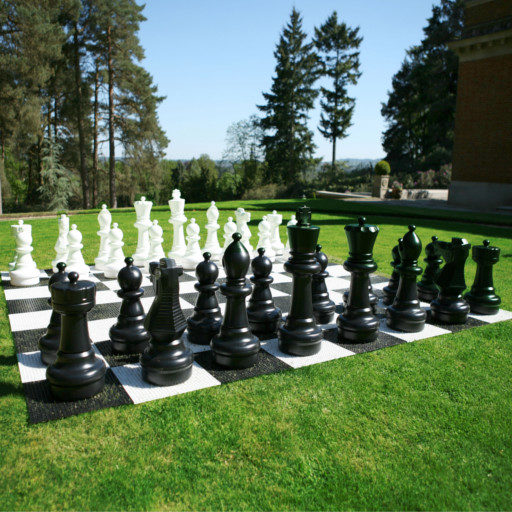 Giant Chess Set
9am - 8pm
Police Depot Parking Lot
Searching for Bobby Fisher? Come enjoy this life-sized chess set, with pieces several feet high. Find the secret chess champion in your party, or teach this classic game to your kids!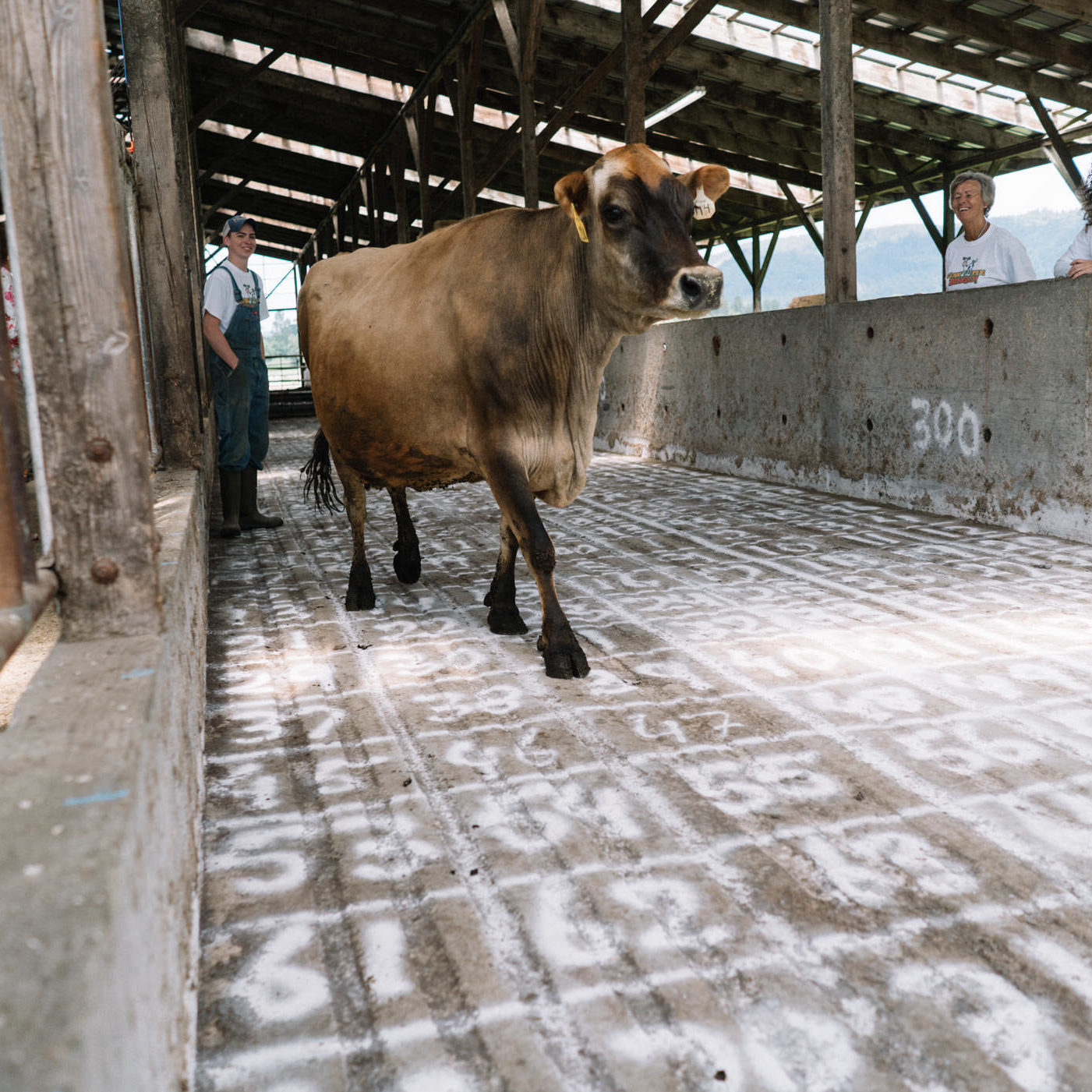 Cow Pie Bingo Purchase
9am-5pm
Duvall Civic Club &Hy-Lo 4-H
Please see the full rules on Cow Pie Bingo here.
A great Duvall Days tradition: Cow Pie Bingo! Take a keepsake photo and buy bingo tickets for the Big Plop. $5 buys you a square -- if the Cow Pie drops on your square, you're the big winner! The "Plop" will take place on Sunday beginning at 1:30 pm at Cherry Valley Dairy, and will be live-streamed on Facebook. Plus, Cherry Valley Farm tours beginning at 1:45pm on Sunday. 
Running of the Balls
 by Stillwater Elementary PTSA
9am-2pm, Tickets sold
3pm, Balls roll down Stewart St.
More info here>>
Hosted by Stillwater Elementary PTSA, the Running of the Balls event is a fun raffle contest with many winners! Raffle tickets that match a numbered ball will be sold during the day until 2 pm at the Stillwater PTSA booth located near Red Pepper. We will also be preselling tickets at Stillwater Elementary and Safeway beforehand. At 3 pm, all the balls will be released on Stewart and roll down to a single collection point, the person who has the ticket that corresponds to the first ball that crosses the finish line will win a $500 cash prize. There will also be some amazing runner-up prizes. Our principal, Jack Madigan and other staff members will be at our booth during the day so make sure you stop by! 
Zip Line
11am-10pm
Center of
McCormick Park 
Wind in hair? Check. Ready to take flight? Check. Duvall Days is going EXTREME and FUN! Fly across Duvall's McCormick Park in the most popular Duvall Days attraction, the 200 ft. Tandem Zip Line! Set off with a friend from a 45ft tower and fly across the park, landing on the other side – don't worry you can scream as loud as you want! If under 18 a signed parental waiver will be required.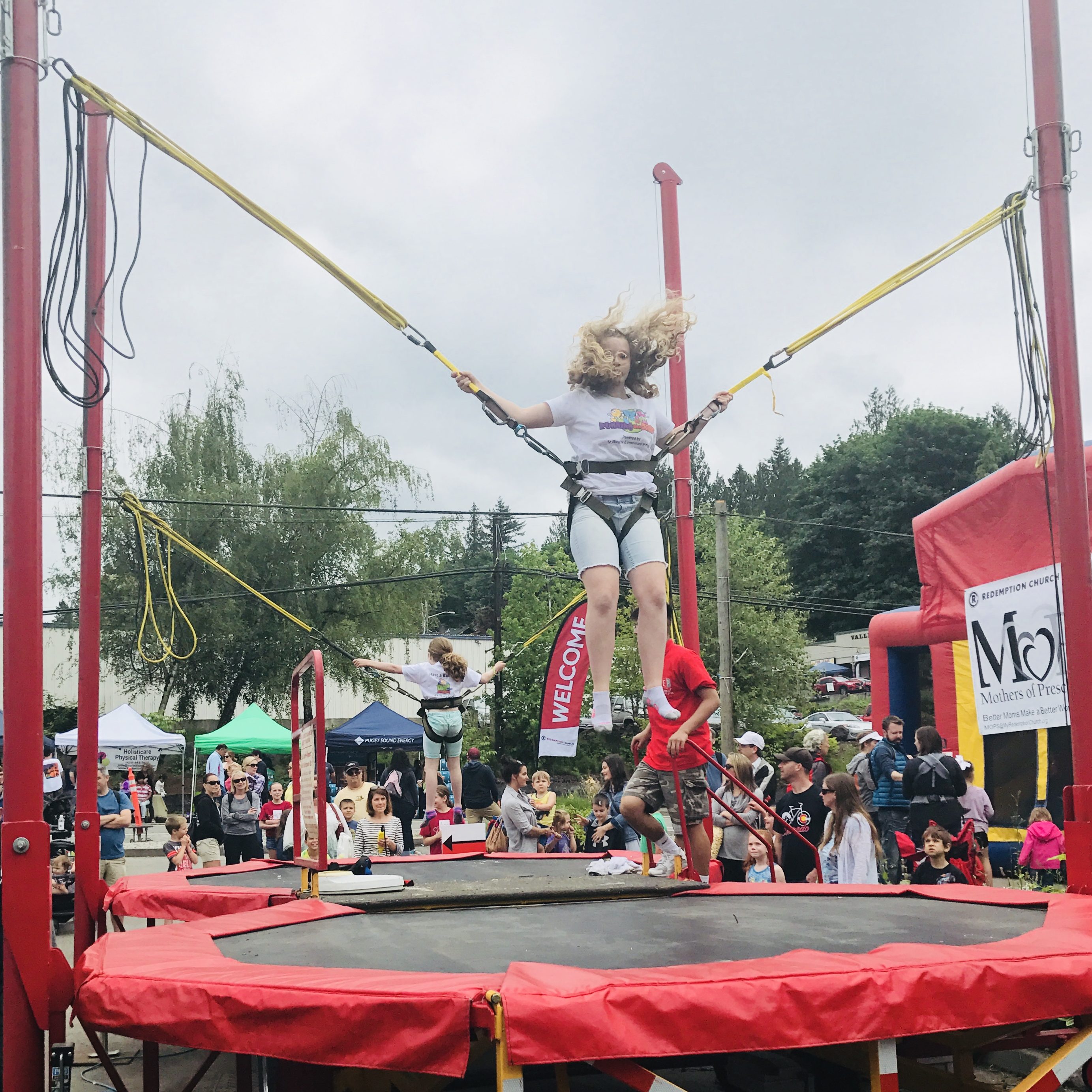 Double
Trampoline
11am - 10pm
Center of McCormick Park 
BOING…BOING…jump into the latest and greatest of interactive games. Our deluxe Trampoline Thing will have you flipping sky high, as you attempt double back flips upwards of 24 feet into the air. Double the capacity…double the fun!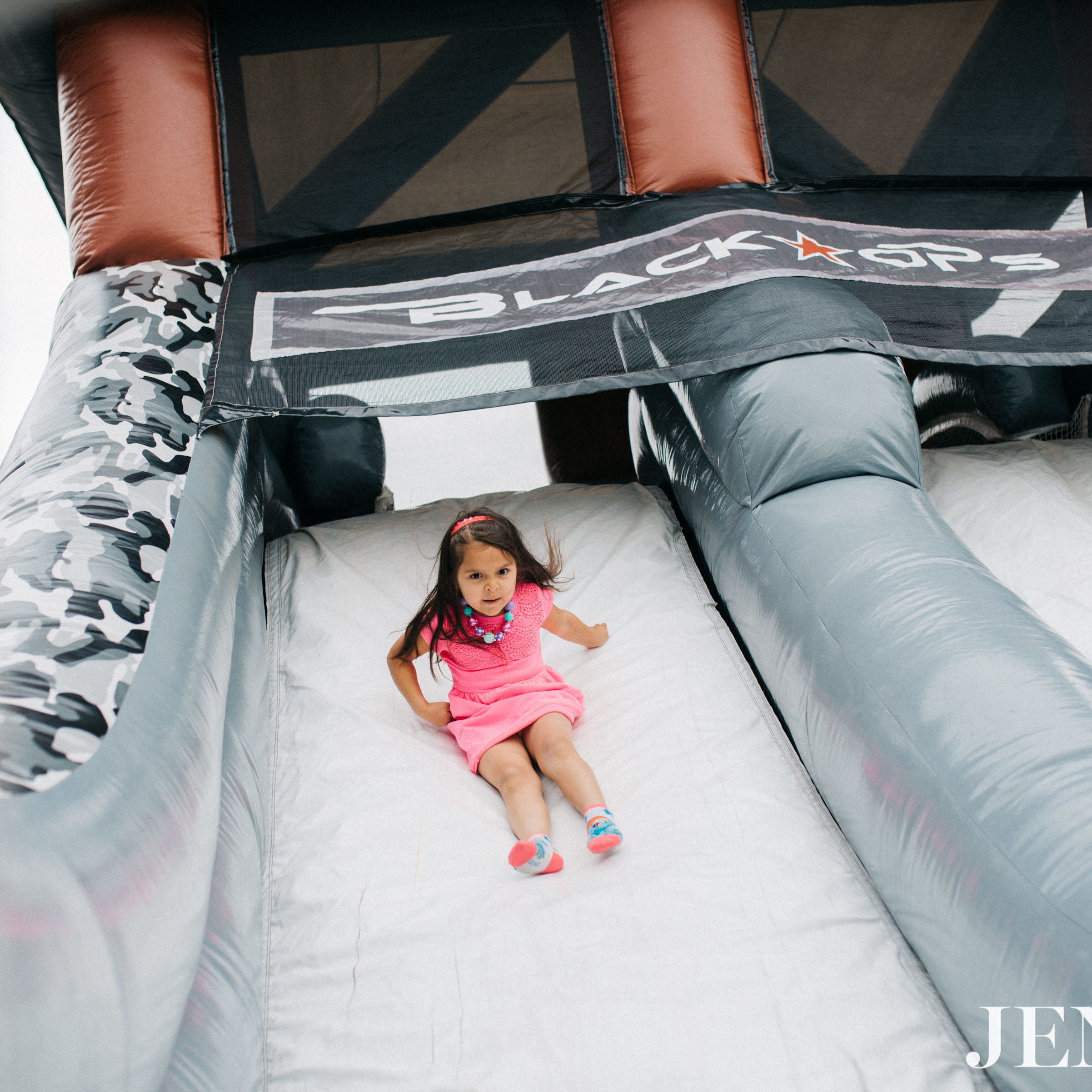 Timberlake
Family Zone
11:30am-4pm
Timberlake Parking Lot
(upper & lower)
Timberlake Church will offer Free Snow Cones, Bounce Houses, Photo Booths, Kids Crafts, Mom's Nursing / Rest Area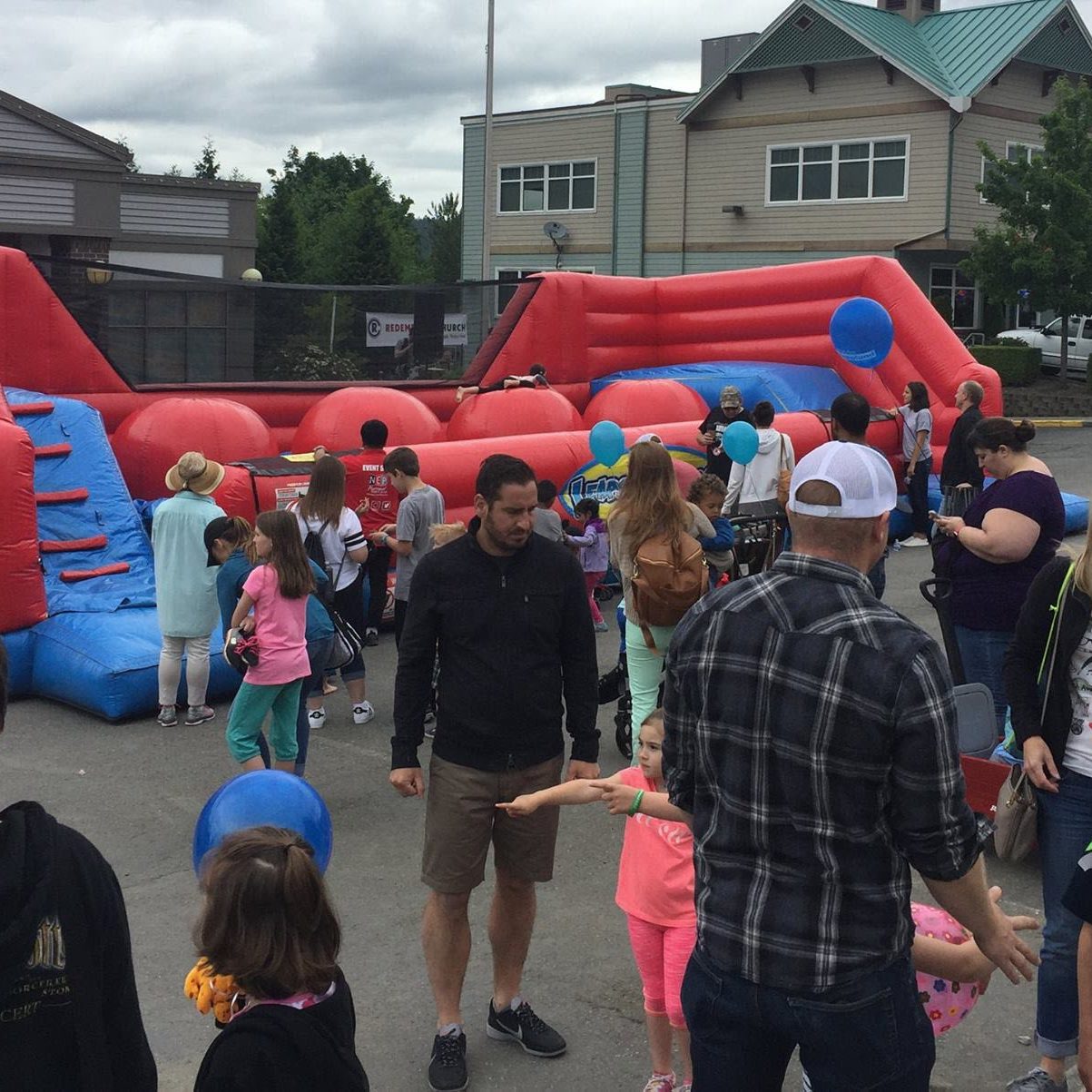 Redemption Church Fun Zone
11:30am - 4:00pm
Redemption Church
(The Hub) Lot
Duvall Fitness
"Kid Zone"
11:30am - 4pm
Duvall Fitness
Parking Lot
Inflatable obstacle course open to all ages and abilities! Challenge your friends to see who can get to the end first!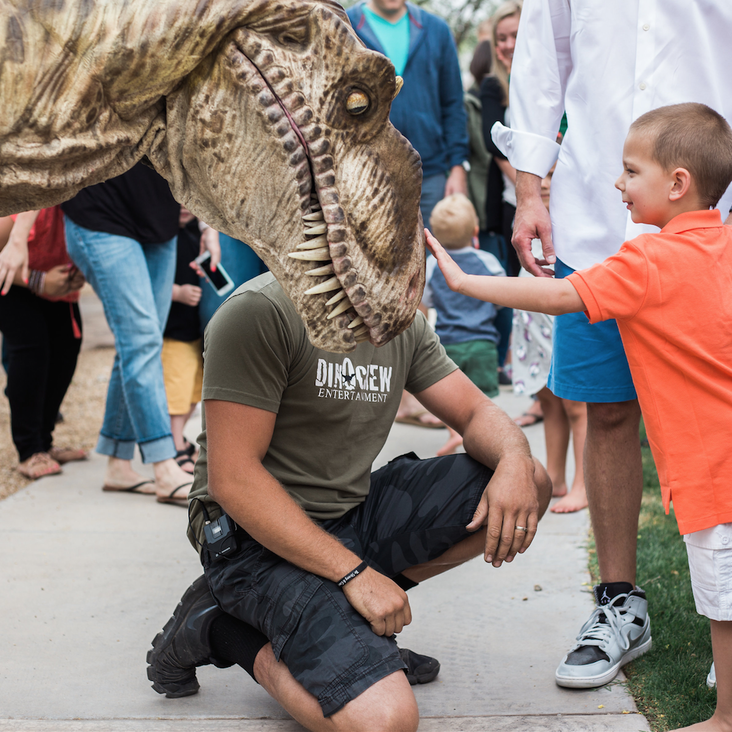 Interactive Dinosaur Entertainment
11:30am - 4:00pm
North Main Street
Duvall Tavern Parking Lot 
We will have various farm type animals for petting.  4-H members will be handling the animals and answering questions to educate the public on 4-H and the animals. Animals include alpacas, llamas, goats, rabbits, chickens and miniature horses.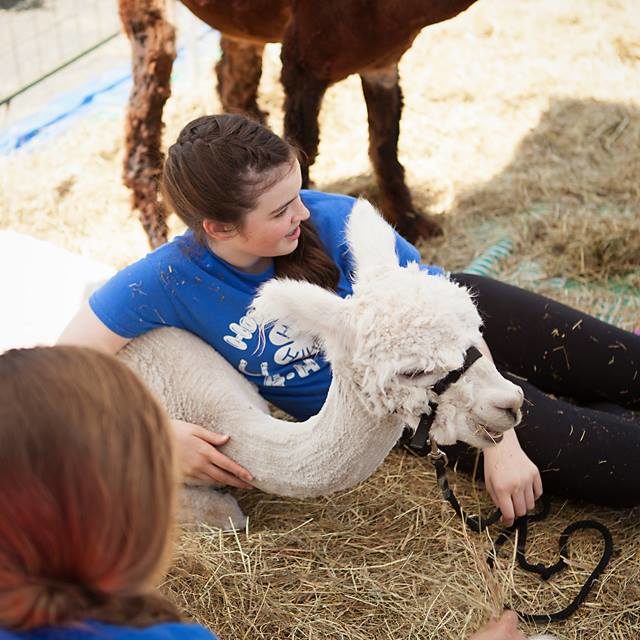 4H Petting Zoo &
Dog Agility
11:30am - 4:30pm
McCormick Park
South End 
We will have various farm type animals for petting.  4-H members will be handling the animals and answering questions to educate the public on 4-H and the animals. Animals include alpacas, llamas, goats, rabbits, chickens and miniature horses.
Basketball 3v3 Tournament Cedarcrest Select Basketball
11:30am-5pm
Hwy 203, south of Valley St
Click here for more information and registration >>

2nd annual Duvall Days 3v3 Basketball Tournament hosted by the Cedarcrest Select Basketball Program. It's for all ages 3rd grade and above to celebrate the Duvall basketball community. Get your game on, baller!
Sponsored by Toll Brothers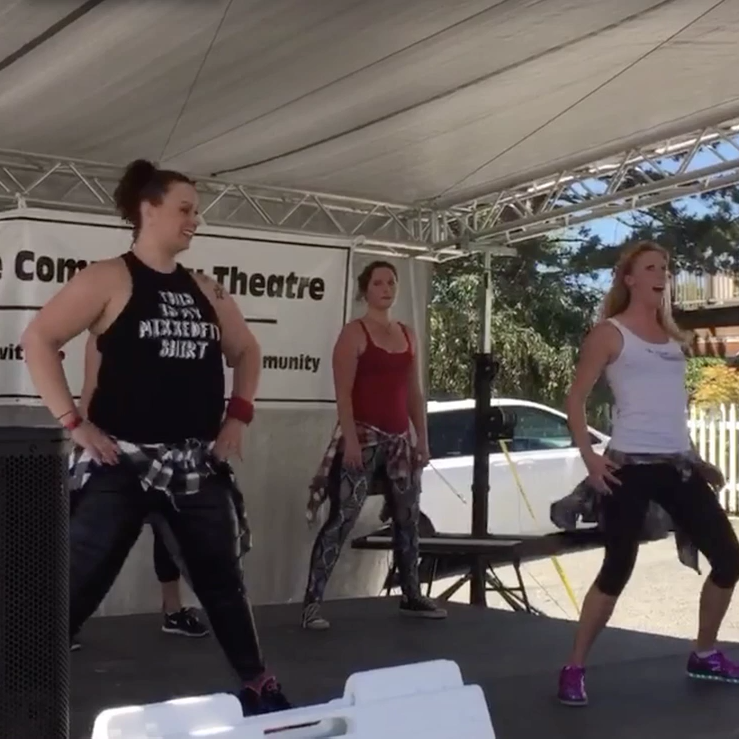 Community Stage
11:30am - 4pm
Main Street & Stella St
between City Hall and The Grange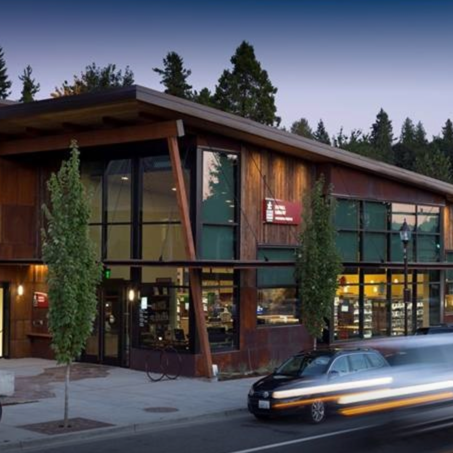 KCLS Library Activities
11:30am-4:00pm
Duvall Library 
Main Street
Take a break and sit down with a good book, try a relaxing craft or enjoy a short retro Mario game at the Library2Go van. Books, movies, and bookbags can be checked out with your KCLS library card.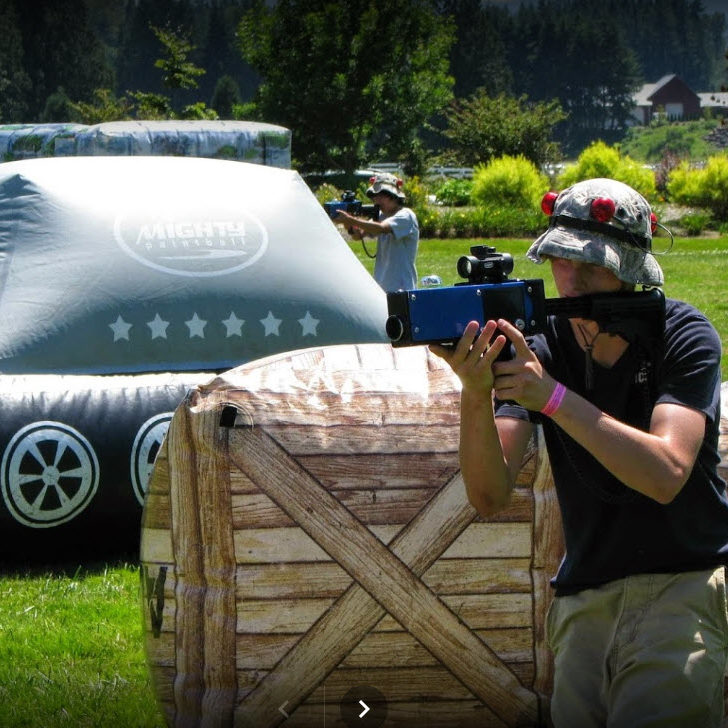 Laser Tag Live
12pm-10pm
North Section of
McCormick Park 
Come play games of Laser tag with Adrenaline Sports that are unlike any other laser tag experience! The gameplay merges the physical excitement of paintball with the electronic features of video games allowing team objectives such as Capture The Flag, VIP, King Of The Hill, or players can invent their own games.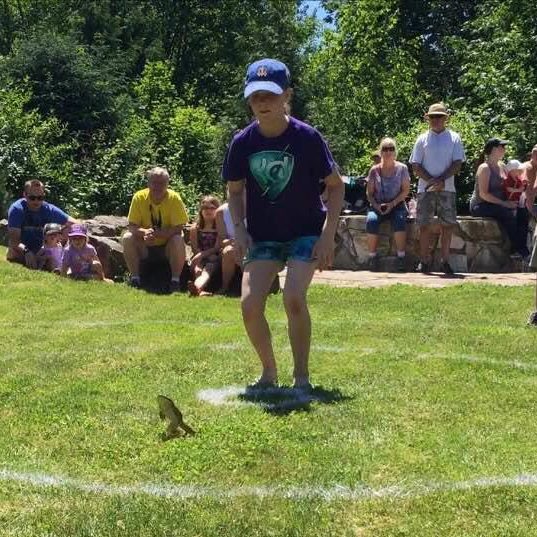 Come sign up to participate in the annual frog jump event hosted by Cub Scout Pack 569 from Cherry Valley Elementary.
FROG CATCHING 101:
1. Frog-catch at dusk or after darkness.
2. Bring a friend or two.
3. Bring a bucket.
4. Bring a net.
5. Flashlight.
6. Wear boots.
7. Shine flashlight to the pond's edge looking for reflecting EYES.
8. Have your buddies circle from the side and behind.
9. Net the frog then carefully lift into your covered bucket.
10. Pond location, location, location is key.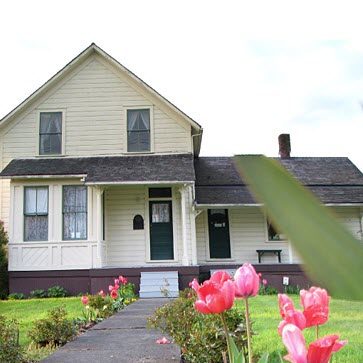 Historic Dougherty Farmstead Tours
1pm-3pm
by Duvall Historical Society
Cherry Valley Road
Come for a tour of the Dougherty Farmstead. Walk the Dougherty House - built over 100 years ago-and visit the bunkhouse, milk barn, and pioneer cemetery nearby. Small farm animals will be onsite for viewing.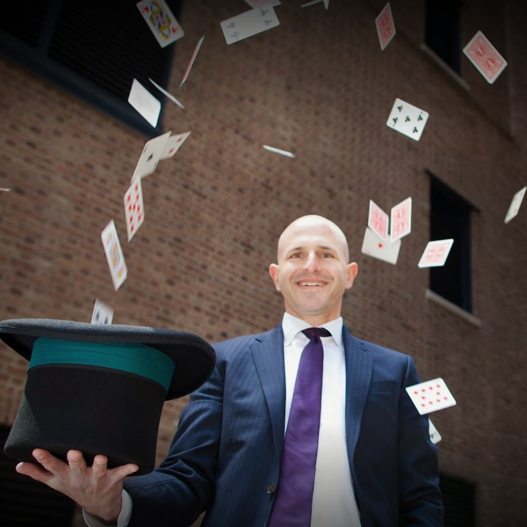 Fun Foundations Magic Show
Fun Foundations Early Learning and G.G. Green are bringing "magic" to help capture Duvall Days 2018. 
2 Magic Shows by Magician Extraordinaire:  G.G. Green 
Time: 2 PM & 3PM 
Bring your imagination down to the Depot Building (next to the Police Station near McCormick Park.) 
Brought to you by Fun Foundations Early Learning offering Preschool and Childcare for ages 1-5 in Duvall. Teaching children through fun and play!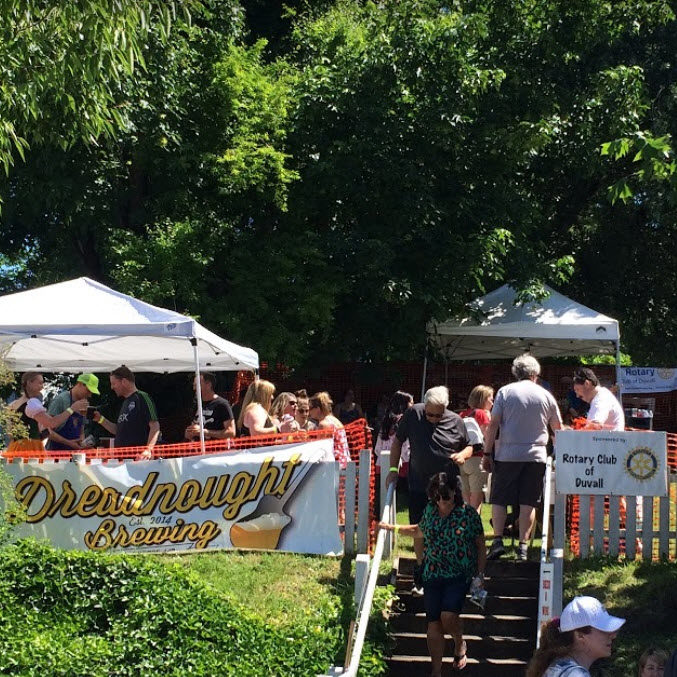 Beer & Wine Garden
2pm - 10pm,  McCormick Park
by Duvall Rotary
Come watch the parade and enjoy music and beverages from Old Rock Brewery and Cherry Valley Winery at the Duvall Days Rotary Foundation of Duvall Beer Garden.  The garden will feature local music all day!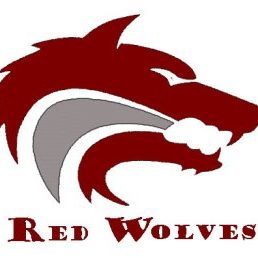 "Taste of Duvall" Evening Food Delivery Service
Order dinner from McCormick Park while enjoying the concerts and beer garden … and have it delivered it right to you from local Duvall restaurants! Brought to you by the Cedarcrest High Class of 2018. 
Confirmed restaurants: 
Zazynia  
Red Pepper 
Twin Dragon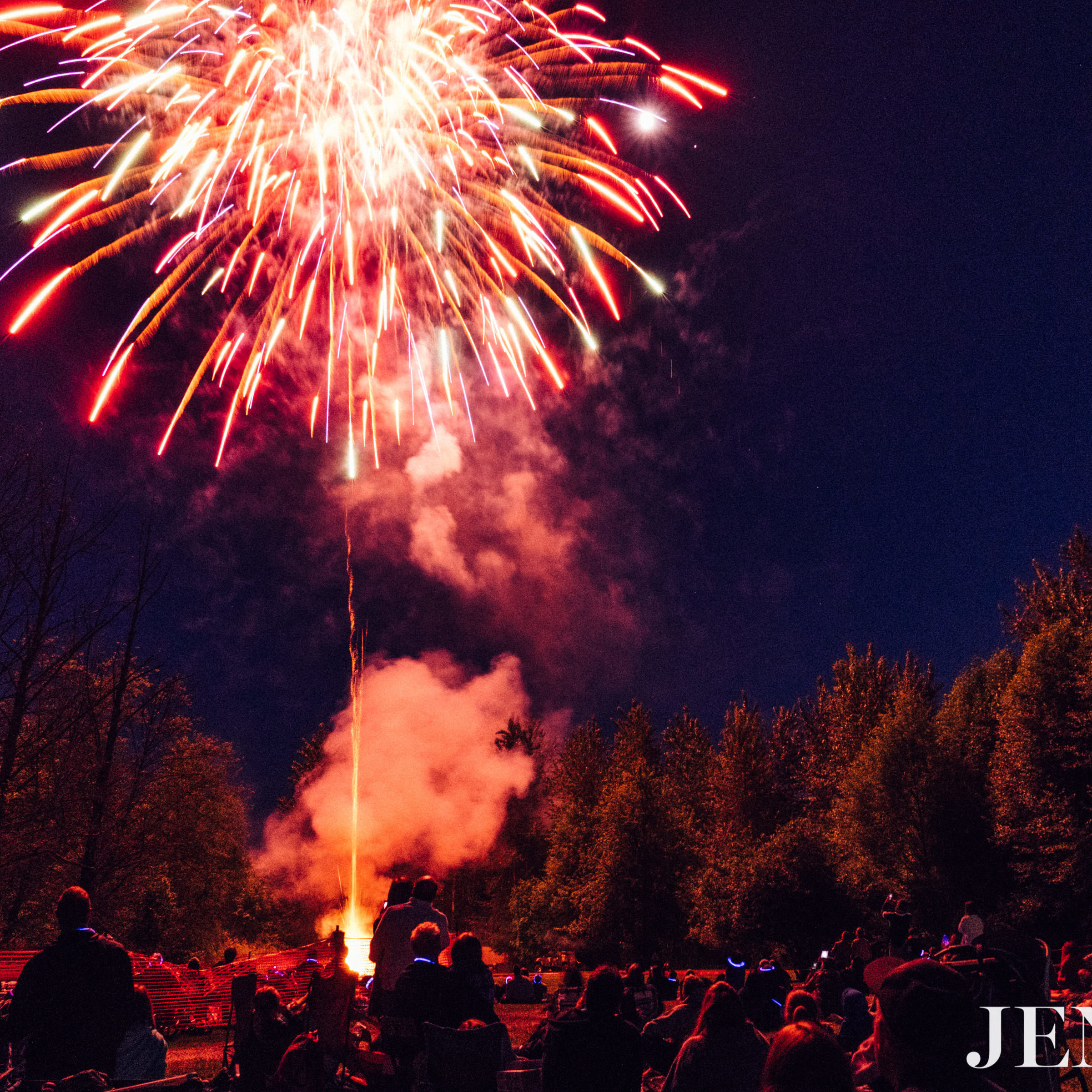 Fireworks sponsored by Red Pepper
Fireworks return to Duvall Days.  Join us down at McCormick park for an evening of music with Fireworks ending the show at 10pm.
Sponsored by Red Pepper Pizzeria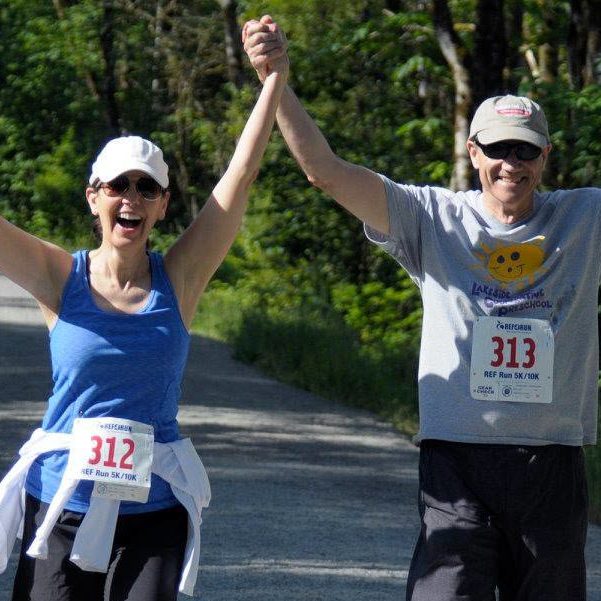 REF Run
Sunday morning,
various start times
5K, 10K, and Kid's Obstacle Race. Benefitting the Riverview School District.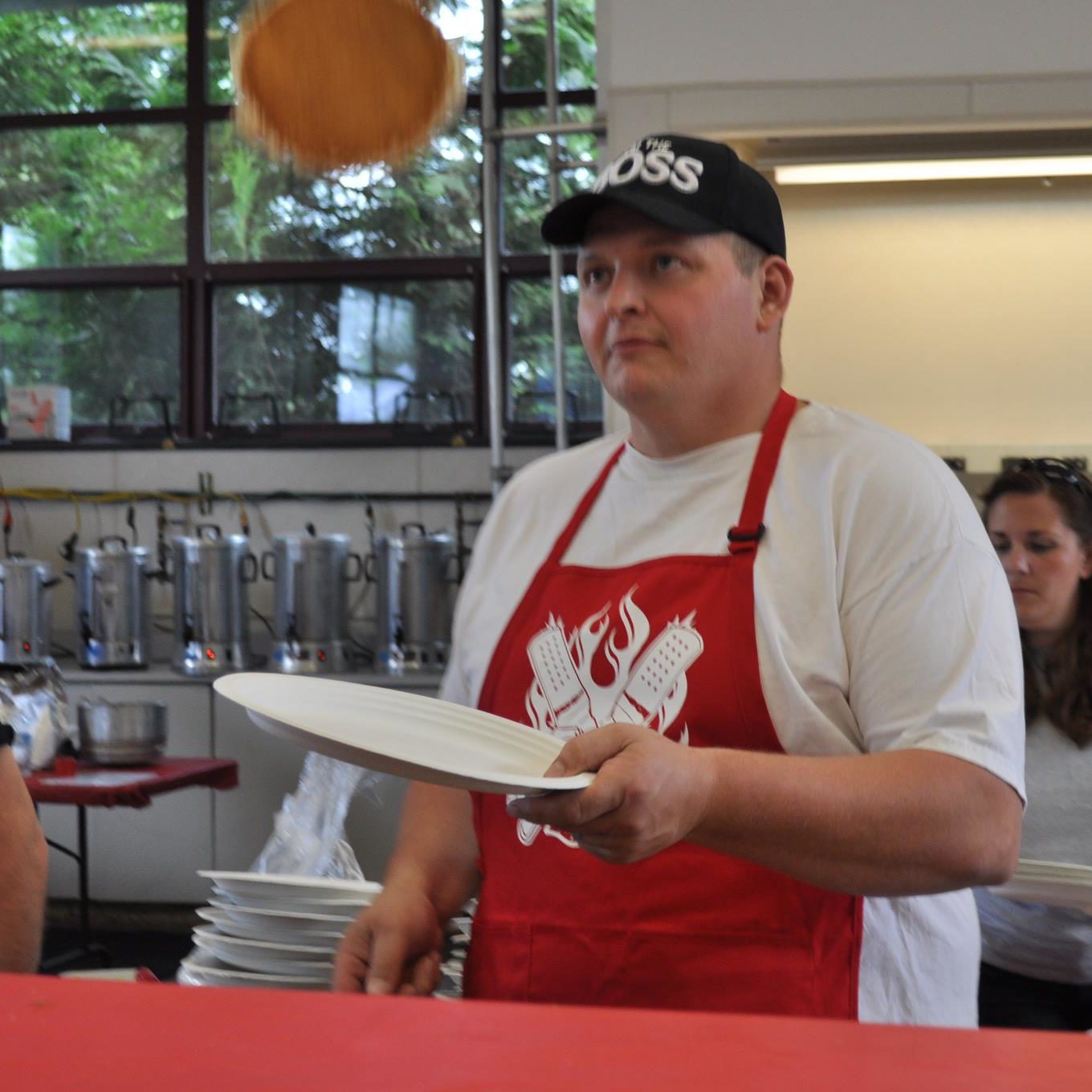 Duvall Firefighters Annual Pancake Breakfast
It's a Break-Feast of Pancakes - Organic Eggs - Ham - Applesauce - Starbucks - Organic Valley Milk - Hot Chocolate and it's all cooked and served by our local heroes at Fire District 45.

Pancake Breakfast Facebook Page >
Watch on a Live Stream as the Cow attempts to plop on the Bingo Board.  Link will be provided here. 
Farm Tours at Cherry Valley Dairy
1:45pm & 2:15pm
26900 NE Cherry Valley Rd, Duvall