We are excited to announce the
2019 Duvall Days
Grand

Marshal

:


Dave Ryles

The Rotary Club of Duvall enjoyed reviewing the grand marshal nominations and learning about so many wonderful people in our community. This year we are honoring Dave Ryles posthumously for his dedication and quiet service to the youth of the Snoqualmie Valley. Dave embodied the Rotary motto of "Service Above Self" and we are proud to have him represented at this years' Duvall Days Parade. Riding in the parade on behalf of Dave will be his daughters Brie Regalia, Karly Trees, Lindsey Regalia and her son Logan Pfister.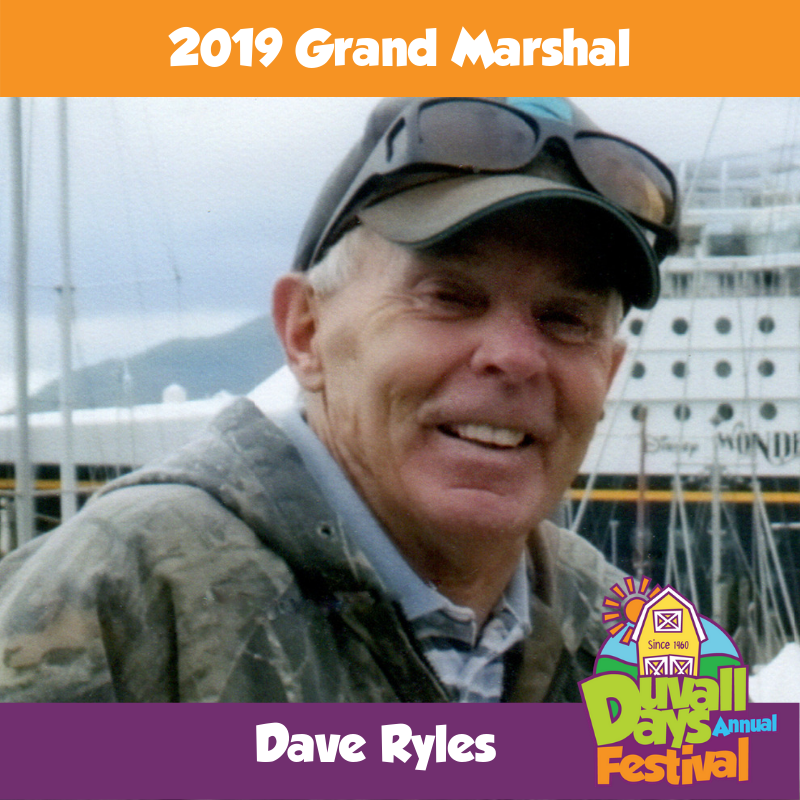 ABOUT DAVE RYLES
Dave was born on November 30, 1950 in Kansas City, KS and moved to Washington State just two years later with his family. He graduated from East Bremerton High School as a three-star athlete in baseball, basketball, and football.
"Pound for pound he was the best athlete I encountered in my coaching career," former East High football coach Ted Berney was quoted as saying about Dave by reporter Terry Mosher in the Kitsap Sun.
Dave went on to play baseball and basketball at Olympic College before transferring to Washington State University. It was here that Dave thrived and played baseball for the Cougs for three years. He formed many lasting friendships during his time at WSU and also earned his nickname of The Mole. Even as a top college athlete, Dave's humility showed as he was a mentor and supporter of other athletes on the team. After college Dave was drafted twice by the Pittsburg Pirates but declined to sign with them, instead waiting for what would be a life-long commitment to the Philadelphia Phillies. Dave played professional baseball for the Phillies for two years until retiring due to an injury received during a game. Dave then earned his master's degree in teaching from the University of Oregon and began his teaching career in the early 1980's for Riverview School District, where he remained until his retirement. While teaching at Tolt High School and Cedercrest High School, Dave was also a football and basketball coach. He continued coaching football until he fell ill in August 2017. Dave also continued to be part of the Phillies organization as a baseball scout for the Pacific Northwest and was an active part of their team until 2017.
Dave and Patti Regalia were married on August 18, 2000 in a small ceremony with their closest family and friends. Dave was thrilled to be stepfather to Patti's three daughters from her previous marriage, and had actually asked them for permission to date their mom before asking Patti out! They spent their years together living in Duvall, vacationing in Laughlin and Mesquite Nevada, and enjoying life.
At Tolt and Cedarcrest High Schools, Dave excelled as a coach and teacher in the same way he had excelled as an athlete. No matter what the circumstances, he wanted to see everyone be the best that they could be. As a coach, Dave valued all players equally- the stars and those who just wanted to be part of a team, continuing to work with players after practice to strengthen their skills and confidence. As a teacher, Dave taught PE, Math, Science, and assisted with special needs students. He wanted everyone he met to feel special and did it with a sense of humor. When teaching pickle ball for PE, the winning team received a dill pickle on a stick! On campus, Dave did his good works without drawing attention to himself. If Dave noticed someone not eating lunch, he would quietly make sure that the student had a lunch to eat, tickets to prom, or extra help in the classroom. But Dave went beyond that, he was the person students could talk to when they felt like they couldn't talk to anyone else about what was going on in their lives. He didn't judge, he just listened and did whatever he could for them. He helped many teens who found themselves in trouble and needed an advocate, someone they could trust, who believed in them and made them feel like they could do better. He helped them figure things out and stuck with them through the process. Dave was willing to put himself out and take a risk on a young person, and because of Dave's support, many of them did do better and have gone on to successful lives. In fact, because Dave has influenced so many students over the years in a positive way, there has been an outpouring from them requesting that he be this year's Duvall Days Parade Grand Marshal!
Dave was very close to his grandson, Logan, and they went on frequent trips to Chuck E Cheese. They played sports together and Logan often accompanied his grandpa to Cedarcrest Football practice. Dave was also an avid hunter and spent the winters hunting in the Snoqualmie Valley with friends, past students, and his beloved golden retriever Holly, then Molly, as companions.
Sadly, Dave Ryles, passed away on Friday February 8, 2019 from complications of multiple strokes. Dave's life was full of accomplishments on the field, in the classroom, and in the lives of the hundreds of students that he influenced.